You are probably all aware that we have just begun the Year of Mercy, starting on 8th December 2015 and running until 20th November 2016. Years of Mercy traditionally take place every 25 years and the last one was in 2000. However, Pope Francis has called for an additional, extraordinary Year of Mercy this year. We have been sharing the purpose of this very special year with the children: they are a time for us all to grow together in our understanding of God's mercy for us and they are a time for us all to learn to show mercy to others more fully.
A central part of the Year of Mercy is the Holy Door – passing through the door is a sign that we want to accept God's mercy, change our hearts and walk into God's loving embrace. Pope Francis opened the Holy Door in St Peter's on December 8th. Cathedrals around the world have opened their own doors – with Cardinal Nicholls opening the Holy Door at Westminster Cathedral on December 13th. Schools have been encouraged to dedicate their own symbolic Holy Doors in School and last Friday we opened and blessed our two sets of Holy Doors, joining the corridor to the School Hall.
We are trying to use these doors as a chance to leave disagreements and arguments behind us as we enter the Hall and when we exit the Hall to try to go and resolve any arguments seeking God's mercy and offering mercy to those who may have upset or hurt us. Pope Francis has encouraged everyone to adopt a door of mercy – including prisoners who are asked to use their cell door as a door of mercy and repentence. Maybe you could find your own door of mercy in your home this year?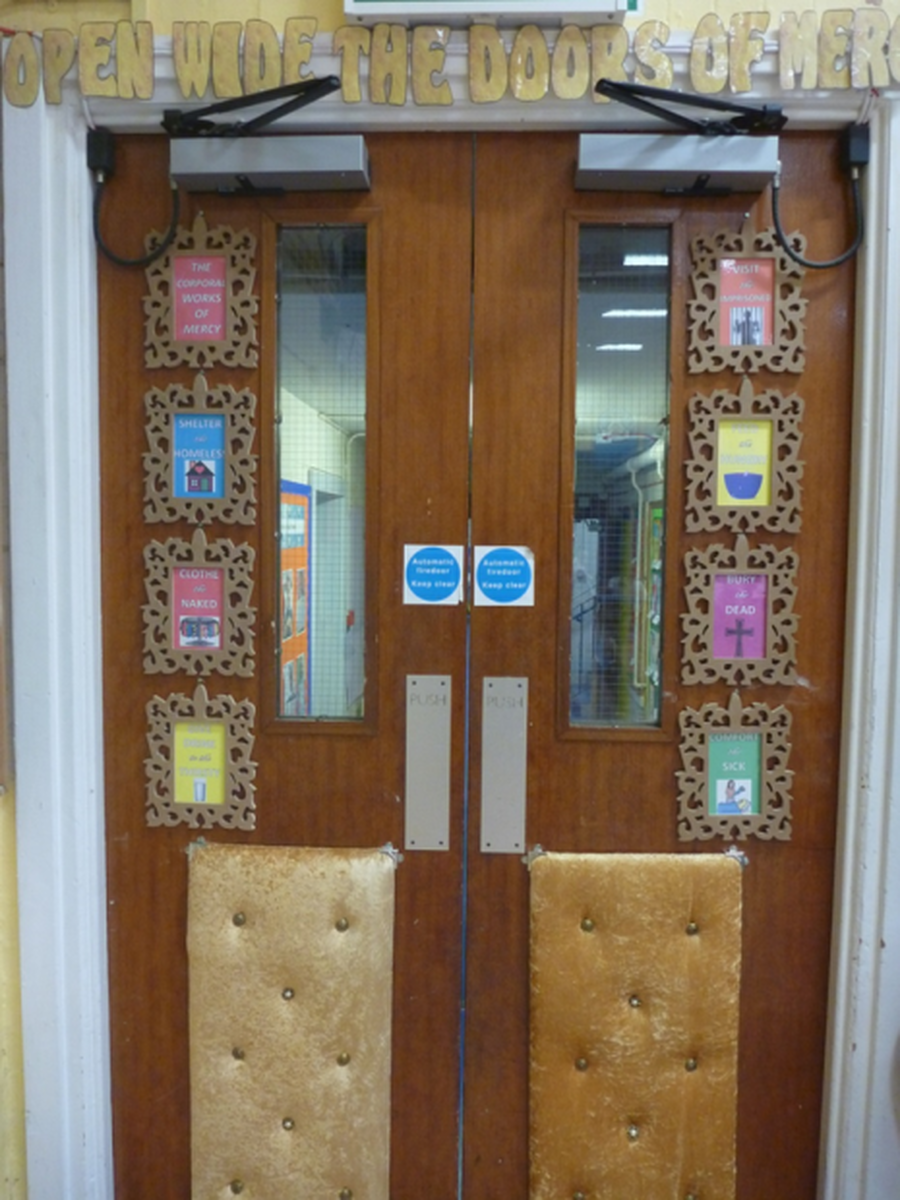 Lord Jesus Christ
You have taught us to be merciful like the heavenly Father,
and have told us that whoever sees you sees Him.
Show us your face and we will be saved.
We ask this of you, Lord Jesus, through the intercession of Mary, Mother of Mercy;
You who live and reign with the Father and the Holy Spirit for ever and ever. Amen